Communication is Key - Communication Skills for Workplace Success
Communication is key, important for workplaces success. HR put more emphasis on Communication Skills. This article will help you to master communication skills.
" In the hiring, process managers are looking for communication skills than any other soft skills. Effective communication can land you to the job  with large amount of money."
It is said true communication is key. Communication is very essential for workplace success. When you are applying for any job the interviewer or employer first looks at your resume and finds out your communication skills that should be intensely reflected.

Read About- Career In Computer Science

Good communication skill for resume is must for getting new job. Think for a moment you are great at your study, you know that work well but due to a lack of communication skills, you can lag in every aspect of life. Importance of communication skill are more to describe.
In this article we will explore:
What are good communication skills?

Why communication skill is important?

How to develop communication skills?
Having communication skills helps you to connect with your friend, family, boss, and colleague.

In this digital world, there are many ways of communication like email, phone calls, letters, and video conferences. But active communication makes you stand out of the crowd. If you master this skill it can help you in the workplace success.
Communication skills in the workplace are the ability to communicate effectively with the colleagues/staff member to give a fruitful result to your project in the company. Educational institutions these days are focusing more on the communication skill of students.

Priorities are given to group activity and many other extra co-curricular activities that can enhance your communication.
Good communication can increase your chance of hire,  get promotions, and be successful throughout your career.
Communication skills require you to listen and write effectively and concisely. As you will grow in your career the importance of communication skills will increases.

Communication skills can be master with practice. There are many things to consider while having communication with your client or with your colleague. In the Salesman's job, good communication skills will help you to sell your product easily. It will help you to master the leadership quality.
According to the survey conducted by LinkedIn Communication is sought 57% than other soft skills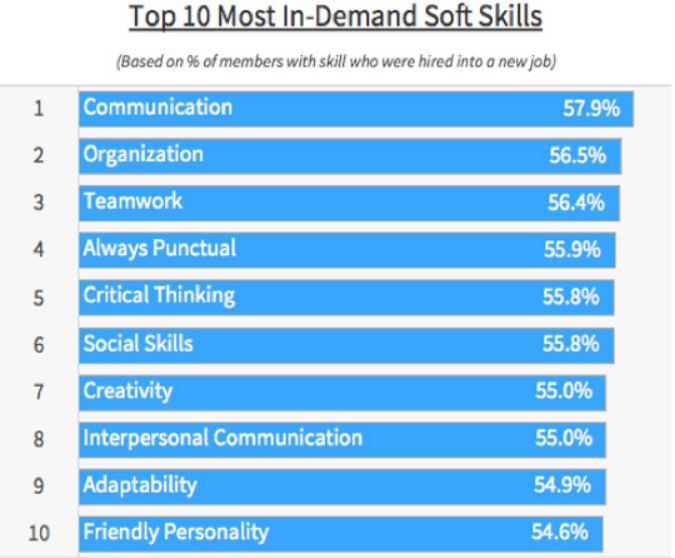 62% of people do not like their job because of poor communication skills. The company with leaders who possess good communication gives reason for a 47% high return. Good communication plays a key role in team and organization success.
Students and employees get a lot of opportunities to perform among people. These small opportunities in their life are quite enough to increase effective communication in the workplace.
Communication means to open yourself with the environment and the people around you there is nothing a matter of hesitation. It can only be mastered by practice and performance. If you are today losing the leadership opportunity you will never be able to be a good communicator. Communication is a thing of implementation. It makes people consider you effectively, and the way to influence others.
Communication is not only necessary for success at your job. It is also necessary for the social life and responsibility you have.
You can see a large number of people competing for the same job you are applying for but what makes you stand out is your communication skill. In the job interview, there is a large weightage of effective communication.
Effective Communication key Skills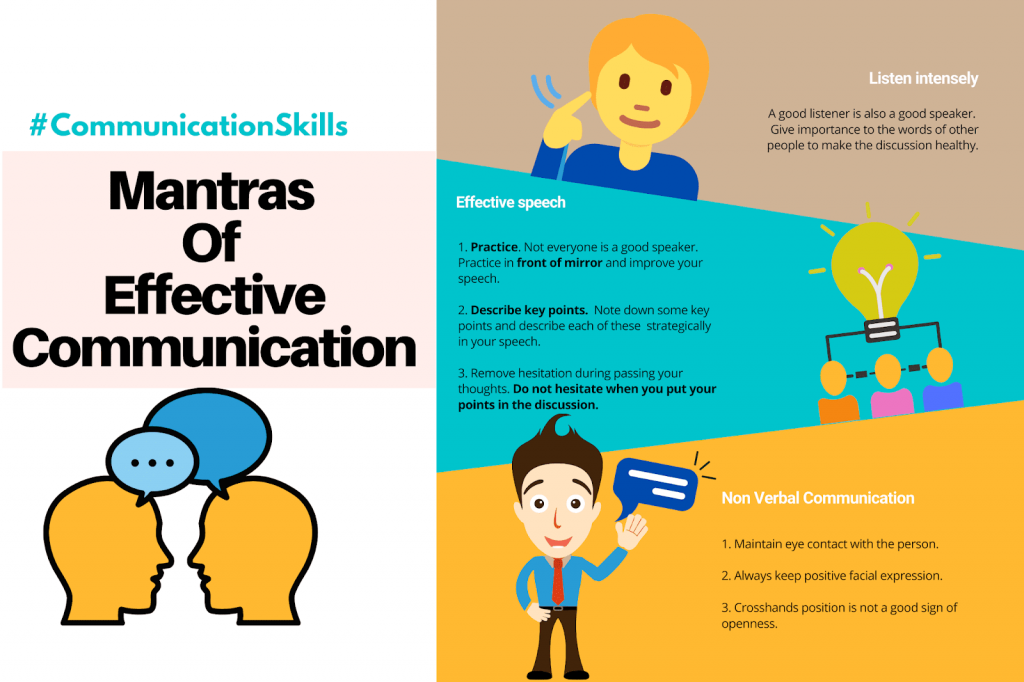 One of the major reasons for teamwork failure is improper communication. Lack of communication results that employees do not know what they are supposed to do. People working under you require instruction before they start the work. It can cause the failure of the work, completion of work after the deadline and low productivity.
In social life, lack of communication cause suspicion and gossips. It is a human nature by which we always try to figure out what the third person thinks about us. It sometimes results in rumors and negative feedback.
Good communication skills will help you to put your point effectively and influence the people around you. Being a part of an organization, can help you in generating the lead, and creating a logic for them to respect your words.
How to Improve Communication Skills?
Communication skill is referred to as interpersonal skill or soft skill. There are different ways to communicate with each other among the team. The communication can be one to one interaction, video conferencing phone calls visuals, animations, charts, newspaper magazines, and body language. What are some important types of communication skills?
Some Important Communication Skills are Mentioned below. Learn How to master each of them with smart tips.

Your ability is shown when you are opening your mouth in front of a large number of people and the people who are concerned with some specific decision. Effective speech request you to speak directly and concisely. Putting words with numbers and logic is the reason why they accept your arguments.
A good commutator can create a strong business relation and better control over the discussion that's many times result in productive work. Friendly and calmly talking can put your discussion weighed toward yourself.
Effective speech is your power by which you leave your impression on people around you and make them accept whatever you are saying. Healthy discussion can lead to workplace success and result in oriented teamwork.
A good listener can be a good speaker. What the other people are saying if you are giving them the importance, they can feel their value as a team member. Starting the discussion by using the words by starting with the conclusion from there previously spoken speaker can impact the result from the overall discussion.

By active listening, the speaker can make a good relationship with the audience and the people in the discussion. It is necessary for a fruitful work, getting outcome from the discussion, and working collaboratively on effective and creative ideas. Sound discussion can result in an important conclusion by using the overall effort of all team members.
In the listening ability you can use words like, so that, I like the way you said, the conclusion of what the other people said in the discussion, and starting with the same point that shows their value. This method is effective you can use it for better communication.
3. Presentation skill
Presentation skill enables you to deliver an engaging presentation to the people with the tool available to you. In this digital age, the presentation with slides helps you to deliver your message among people intensely and motivate them to prove importance to your ideas.

There are many tools, for making presentations like Google presentation, PowerPoint presentation slide share, etc. Presentation to be successful you need to master it. Presentation skills can be master with prior expertise. Before starting the presentation you can practice to deliver information the day before.
You can make your presentation more effective by adding some questions in that.
During the start of your presentation you can note down the key value you are going to provide in the discussion. The body of the presentation should be to prove your ideas and how you are going to make that particular change with your idea.

Adding some question and humorous make the presentation more reliable, interesting, and interactive. The presentation should end with a value.

The last slide should be generally on the outcome of the discussion, choosing a better and realistic design helps you to create a good presentation. Your power of speech matters. Timing is also important for the presentation.
4. Nonverbal communication
Communication does not only includes listening and speaking. Communicators also have to master nonverbal communication skills. It refers to gesture and posture, body language, hand movement, eye contact, confidence, and facial expression.

Are you going for a job interview?

Nonverbal communication plays a very important role during getting hired. It has nothing to do with your knowledge and the thing you know. Proving your words and being confident it makes you stand out in the crowd.

Nonverbal communication is a test of discipline and physical interaction with the person. It also shows how open you are and how easily you can adapt to a completely new environment. If you are losing eye contact with the person means you are hiding the truth and you are not confident about what you are saying. Answering with a smile on the face shows the lively nature of the person with positive energy. Using your hand to make during expression is a better idea of effective communication.

Communicators can use nonverbal communication for putting impression on the employer, keeping your arms close looks a bit unprofessional. Movement of hands is an indication of an openness. Cross arms result in ineffective communication having no energy in them.

To practice these skills by keeping yourself in front of the mirror and mimic as you are in a job interview or in front of people you are going to be in the conversation with. Open body with the hand on the table or the thigh is the indication of openness. While the distorted gesture is the sign of nervousness anger and anxiety.
5. Written and visual communication
Written communication and conveying the information by visual is quite important in the digital and print media. Writing concisely and making your information to reach the target audience is the skill people have to influence others.
Written and visual communication plays an important role in the social media campaign, image influencing, sending emails, and showing information on the magazine.
Charts and animation taking the place of text these days. One image can say a thousand words.
Point to consider during written and visual communication
Simple conveying message – The meaning of communication is simply sharing information between people. The more simple your text and document will, the more it will be understandable by the people. At the time of sending email people to focus on personalizing the email and make it concise, so that they can directly go to the point. Unclear messages make the information more understandable using visuals and photographs it can be made more interactive.

Layout and design

– The first impression is the last. The first look of the information in the design. Your design should be attractive. So that people coming to your article, blog, or your document they can

need

to read it.

Review writing

– Rechecking the writing can allow you to find out the mistake you had made and to tackle it down. When something is written the first time there can be some mistakes in the way of writing or some other technical mistakes. For better communication, the document should we error-free and it should be readable by the people.
Try to build user engagement

– Engagement is very important for your article to be communicated between the people and made viral. Throwing up the information continuously might annoy the readers. So making the article more humorous, writing by taking examples and case studies can be beneficial for readers.
Final thoughts
Communication is quite important for workplace success. To get most of the results from teamwork and meetings, it is very important. It not only affects professional life but also, puts an impression on social life.
These are some ways you can master communication skills. Let me know if you have something more we want to hear from you.