An Insightful Review Of Emerging Online Learning Platform – Pluralsight
A simple yet definitive review of Pluralsight.
Learn coding – How long does it take to learn Coding?
Pluralsight Review
When we talk about online Learning skill development platforms, many names get stuck in our minds. Today we are going to dive into one of such Online Learning Platform – Pluralsight.
Let's take a look at the summarized review of Pluralsight.
In today's techno world, the IT sector has attained immense demand. More techno- driven opportunities are setting foot in various industries. Adding more to it, Pluralsight provides self-paced courses created by experts to develop the top skills you need for top priorities.
What Is Pluralsight?
Basically, Pluralsight is a web-based E-Learning platform. It brings up top-notch video courses to enhance your tech skills and boost your knowledge regarding the same.
Nowadays, Pluralsight is emerging as one of the top skill development platforms across the internet.
Pluralsight helps to master skills in Software Development, IT operations, Cyber Security, Cloud Computing, Machine Learning, and various tech-related expertise.
It offers from introductory to expert level online courses.
The two features, distinctly appreciable about Pluralsight are, first, interactive interface with the user. From quizzes to self-assessment, one can thoroughly indulge in the learning process. The second one is, it is a self-paced platform. This allows the learner to access the knowledge according to his learning capability conveniently.
KEY FEATURES OF BY PLURALSIGHT
Downloadable exercise files: plural sight provides easily downloadable exercise files, which can be easily available for practice.
4,500+ courses: Plural sight helps you to access over 4500+ courses easily.
New courses added daily: Everyday a new course is added which helps you to stay updated in fast techno world, which will add skills to your profile.
Mobile and offline viewing: Courses provided by plural sight can be easily accessible at everywhere, you can watch it by viewing in mobile or also in offline mode.
Unlimited viewing: You can watch the video lectures many times. So there is no hassle of doubts
Easy member registration: The process of registration is very easy and free of cost.
Learning paths: You can learn many courses and which will cover the whole journey of growth towards IT sector.
PLURALSIGHT COURSES – IS PLURALSIGHT WORHT IT?
On this e-learning platform, you will be acquainted with a wide collection of courses. A few of them are mentioned below, let's take a look at them:
Software development
Web Development
Mobile Development
Java Script
Python
C#, etc.
IT Ops
Database Administration
Virtualization
IT Certifications
IT Networking, etc.
Information And Cyber Security, etc.
Malware Analysis
Digital Forensics
Security Fundamentals
Penetration Testing, etc.
Data Professionals
Business Intelligence
Data Dashboard
Oracle
SQL and SQL Server and many more
Via courses, skill assessment, hands-on learning, one can choose a way to adapt a learning process accordingly.
ADVANTAGES OF CHOOSING PLURALSIGHT – PLURALSIGHT PROS
The best thing is that, from a beginner to a professional, everyone can deepen and expand their existing knowledge through this platform.
The beneficial thing for the person who is taking this course is there is no need of physical presence.
Pluralsight offers assessments, so that you can evaluate yourself. Such evaluation enables you to point out weaker and strong points. Skills IQ and Role IQ are some of the attractive features for self assessment.
A Personal Tracker to keep track of your progress time to time.
The Pluralsight also offers an instructor led training which can upskill the practical knowledge about various domains.
Offline and download mode is available for users to access the content anywhere
DISADVANTAGES OF CHOOSING PLURALSIGHT – PLURALSIGHT CONS
The platform is bounded to only tech related Skills.
Some of the videos are too lengthy and do not meet the context. The quality of some of the videos still needs to be improved.( As reviewed by users)
Pluralsight doesn't provide any free courses. The free trial is limited for 10 days. After the free trial you have to pay to unlock the next videos.
The offline mode is available for paid users only.
CONTENT AT PLURALSIGHT: Is Pluralsight worth it?
Pluralsight provides very genuine content, and all the instructors of Pluralsight are subject matter experts. So the quality of content you get, increases the capacity for great learning skills. The previous learners have mostly landed positive feedback about the platform.
Up-to-date Content, dynamic interface, large range of courses to choose from, meeting the necessary knowledge in the techno-world, and verified sources are some of the productive opinions from its users.
PRICING AT PLURALSIGHT – PLURALSIGHT COST
The pricing of this web-based learning platform has the talk of the internet. Most of the users have had satisfied with the worth of the courses while others have found it a bit expensive.
Let's see how the subscription plans of Pluralsight are designed: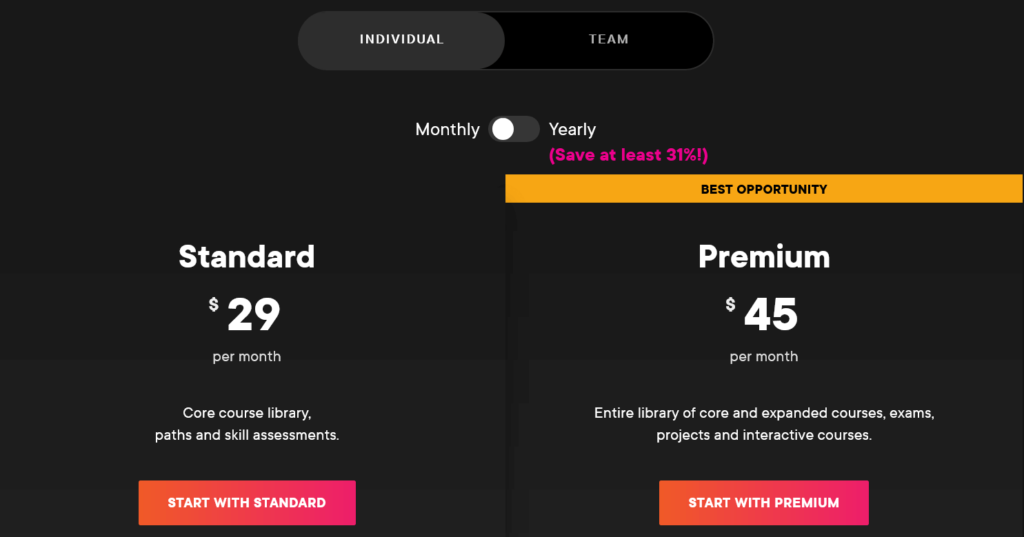 Mainly, when you'll go through the dashboard of the platform, you can check the plans Under the Products section.
Basically, they've categorized plans into two groups
For Individuals
For Teams
For individual learning, Pluralsight furnishes the Standard and Premium subscription. The plans can be bought on a Monthly and Yearly basis.
Standard Subscription on monthly term costs $ 29/- , whereas on annual plan on one can save at least 31% which costs $499/-
Premium Subscription on monthly term costs $45/- , whereas annual plan costs Rs.$699/-, which again gives a discount accordingly.
For the teams, the platform has split the subscriptions into three packages (per user/per year), they are:
Starter Package ($399)
Professional Package ($579)
Enterprise Package ( $779)
The features of each package keep fluctuating according to the charges.
Is Pluralsight worth it?
Pluralsight is a great platform for everyone who is willing to grab and indulge in new tech skills. Whether it is a newbie or a professional, it is made for everyone.
Whether you want to transition into a new field, learn top technologies, improve your skill, Pluralsight Skills can help you get there. They have a proper roadmap for all courses with real-world projects, resources, and examples, also help you to prepare for your coding interview.
You can first try out its 10 days free trial and see what valuable course it holds for you!