Udemy Vs Pluralsight:
Let's Go through a definitive overview of both the platforms
The world is evolving at a very fast rate, and how important it becomes to constantly upgrade your set of skills to meet the benchmarks.
Exponential growth in every field, especially in the IT and Business sectors, has drastically demanded a more skilled workforce.
For more sustainable and seamless development, one has to gain a competitive edge over others. Such enormous growth in these business-driven industries increases the need to elevate the standards. People are leaning towards the aspect of new learnings. Thus, online learning platforms are gaining significance!
Today we'll go through two platforms- Udemy And Pluralsight.
Udemy Vs Pluralsight has been the talk of the town and today we will dive into them through a definitive review!!!
Udemy Vs Pluralsight – Review
Udemy
Udemy is one of the leading e-learning platforms in the world. You can learn many skills from a beginner to expert level.
Udemy offers over 156,000+ courses and the diversity of courses is maximum as it delivers courses on all top skills.

The individual courses start from $ 7.99 to $199.99. Udemy is basically an online learning platform, where one can enhance their skills, for the growth of tomorrow.
Udemy was founded in 2010, the courses are available in 80+ languages, It's ranging from business, designing, health, etc.
No active subscription is required in udemy, but in the case of Pluralsight, one should have access of an active subscription. Udemy offers chat rooms, in which an individual can ask doubts regarding of the topic. There are many courses that can be transferred to college credit which enhances the marks.
Pluralsight
Pluralsight is a web-based e-learning platform. It brings the video courses to enhance your skills and boost your knowledge regarding the same.
Nowadays Pluralsight is taking a huge leap in online learning.
Pluralsight offers various courses to master your skills in, cloud computing, web development, cyber security, Machine learning, from beginner to expert level. From various quizzes to assignments it enhances the skills of an individual.
It offers almost 4,500+ courses easily. New courses are added daily, which helps you to cope up with the fast-paced tech world. The best part of this course is, its registration is free, and there is unlimited watching of the content at any place and at any time, Which reduces the hassle of physical attendance of any person. You can also track your progress in application, how much you have learned. Downloadable files are present in Pluralsight, which you can watch anywhere and anytime.
Courses offered by Udemy and Pluralsight
Udemy
  Pluralsight
Lifestyle                                                Cloud Computing
Healthcare                                           Web Development
Business & Finance                             Machine learning
Engineering                                         Artificial Intelligence
Since we have compared both the courses and we came to know that Udemy is basically related to tech and non-tech, whereas Pluralsight consists of technical knowledge of machine learning, artificial intelligence etc.
So by researching both topics we came to a conclusion that Udemy offers more varieties of courses and Pluralsight gives the technical applications based approach but both are good in their own themes.
As we came to know about the courses, we can compare the various aspects of Udemy and Pluralsight, like cost-effectiveness, resources, Quality of video lectures, certificates, etc.
| | | |
| --- | --- | --- |
|  Factors |          UDEMY |  PLURALSIGHT |
| Cost | $9.99-$199.99 | Starter $399Professional $579Enterprise $779 |
| Quality of content |  Both Technical and Non-Technical | Technical |
| Courses | 1,56,000 | 4,500+ |
| Fields | Healthcare Engineering Lifestyle | Java C# Cloud Computing |
| Registration | Free | Free |
| Certificates | High value | High Value |
| Video tutorials | Online/ offline | Online/offline |
In short, we can summarize the pros and cons of Udemy and Pluralsight as:
Udemy:
Pros:
Wide array of courses to choose covering almost every with more than 1,55,00+ courses
Easy-to-use and engaging interface
Courses range from free to affordable prices
Authentic and genuine reviews available from past learners
Courses are available in more than 80 languages
Certificates are provided on completion of the course
Cons:
Individual courses prove to be expensive
Experience level of instructor might not be professional
One cannot get the required knowledge of skills through videos
Certificates might not hold credibility and validity
Pluralsight
Pros:
The courses are categorised from beginner to professional level. This eases the process of selection for learner
Easy access to videos anytime with offline mode provided
A Personal Tracker is provided for tracking your progress time to time
Instructor led training is provided so you have a prime experience while learning
Skills IQ and Role IQ are available for in-depth self assessment.
Cons:
Pluralsight is a more technical oriented platform
Some courses need to meet the up-to-date Content
It doesn't provide any free courses
Offline mode is allocated for paid users only
Pricing: Udemy vs Pluralsight
Udemy's pricing model is based upon courses accessed. One has to pay for each course as per their choices.
Udemy's individual courses start from $10.0 and range up to $199.99/ per course.
On Udemy, you can choose a wide range of courses from web development to designing and from lifestyle to health and fitness.
The most popular courses on Udemy, as expected, are regarding Web Development and Data Science. Generally, they start from $45 and can reach up to $170. Nonetheless, you are having lifetime accessibility, so each of the courses is worth value.
When we take insights into the Pluralsight pricing, it's basically based upon the Subscription model. Monthly and Yearly. After the subscription plan ends, one needs to renew it to enjoy a seamless learning process.
The Pluralsight Pricing Model is structured as: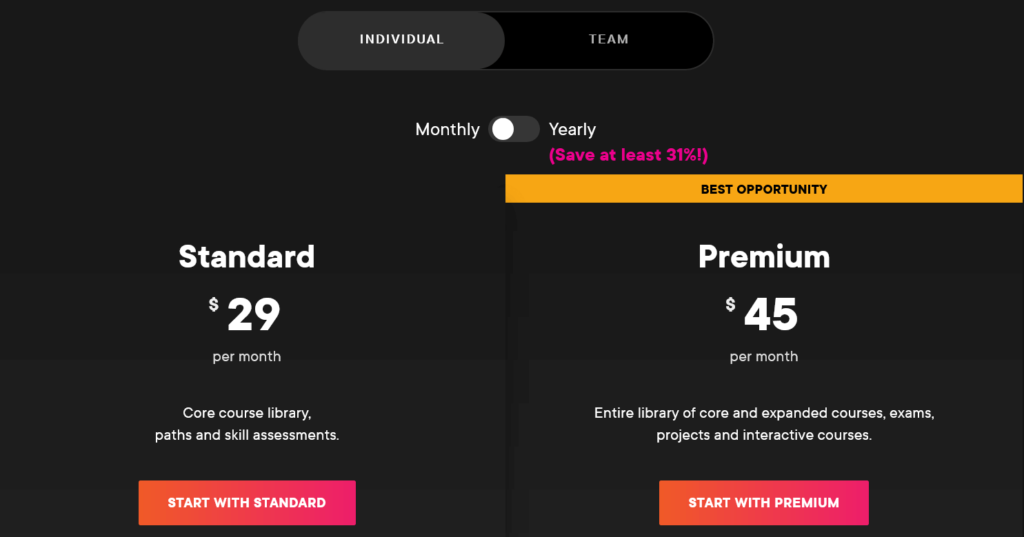 The Individual plans are further split into Standard and Premium subscriptions.
Standard Subscription: 29/ month and ( Rs.499/year)
Premium Subscription: Rs. 45/ month and ( Rs.699/ year)
The Team plans are categorised into Starter, Professional And Enterprise Packages.
Starter Package: $399
Professional Package: $579
Enterprise Package: $779
Ratings:
Ratings give distinct insights for the users about the platform. It eases the decision process of users such as whether their investment in e-learning platforms is going to prove worthy in the future or not. So here I'll land my ratings as my overview for Udemy And Pluralsight. This will provide a clear vision to you for the further decision-making process.
(The ratings are my personal opinions and subjective. Opinions might differ according to everyone's perspective)
Now comes the final verdict! By reviewing all the aspects of Udemy, it stands with 4.3 ratings out of 5. Fewer markings are being convinced in Cons of Udemy.
Similarly, after a thorough review of Pluralsight, it stands with 4.1 ratings out of 5.
Definitely, Udemy outweighs Pluralsight in my opinion. This is because of variety of courses you get access to, from a single platform. But your can opinion can certainly vary from mine!
So What's Better – Udemy Or Pluralsight?
Undoubtedly both of the platforms have made commendable achievements when it comes to the E-Learning theme. Indeed both of them have been successful in delivering a successful content to the learners till now. With quality instructors and genuine information about each course, Udemy and Pluralsight are some of the best online learning platforms nowadays.
But choosing one of them is a question to he concerned. When I personally look after them, I found that one can choose the platform according to their necessity and convenience.
If you want to just focus on tech-related courses that will leverage your technical and software knowledge in software-driven enterprises, unarguably, Pluralsight stands out to be the better option.
Whereas if you want the exposure of a wide array of topics to learn and enhance your overall knowledge and skills, then your first preference should be Udemy.
Earlier, it was not possible due to unreachable internet services, but now the level of services provided by the internet is, indeed, praiseworthy. Now, anyone can indulge themselves in learning new things at any place at any time. The internet is the main reason for digital REVOLUTION. The offline barrier of education has become a bygone era.
To leverage your skills, various websites are helping to give a better education and assimilate new skills. Eventually, it's all about choosing the perfect one for you.