How to Crack NEET Exam in First Attempt? [Updated]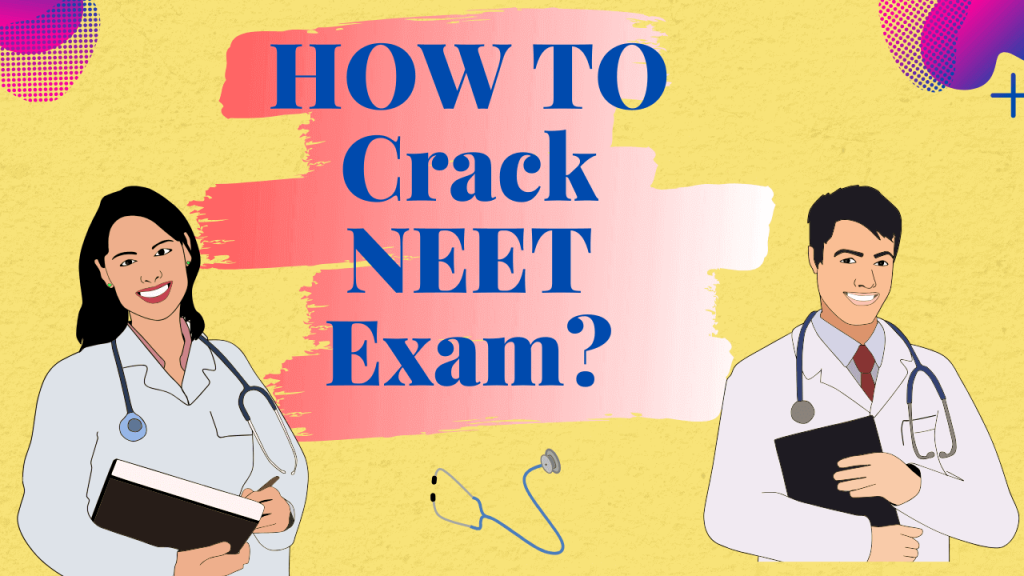 How to crack neet in first attempt? :
Want to Crack the NEET Exam in first attempt?
Read this guide.
We have some preparation tips for you. This will solve your question of how to crack NEET exam.
NEET is one of the most prestigious exams for admission in various Government and private medical colleges across India. This Exam is conducted for undergraduate admission in courses like MBBS and BDS.
This will help you to crack the NEET exam. While preparing for the neet exam, candidates have to make a solid strategy so that they can give their best in the first shot and crack the exam in the first attempt.
Other career path, learn coding – How long does it take to learn coding?
Implementing some technique and proper strategy you will be able to achieve success with your smart studies. This will help you in preparing a proper plan and taking into consideration what is the need and pre-requirement to crack the neet exam.
How to Crack NEET Exam in First Attempt
The syllabus of the NEET exam is similar to the syllabus of class 11th and 12th. It covers the subjects – physics, chemistry, and biology. If you go through the previous year's trend of asking questions, you will find people cracking the exam in the first attempt are very low. So what are the do's and don't are necessary for cracking this exam.
Share This Infographic on NEET Exam Tips
NEET Exam Pattern – How to clear neet in first attempt?
Most of the topics coming in NEET are from class 11th and 12th. For the freshers, a detailed analysis of topics is the first need. Also, the only study is not important in NEET. If you want to crack this exam You should Consider these terms well.
What are the chapters you should mostly focus on? What should be your approach for various concepts and how you study all these things matter a lot. We will discuss each of them one by one.
How to crack the NEET Exam without coaching even requires hard work, it requires smart and focused work also. Every year more than 15 lakh students appear for the neet exam but 90,000 of them get selected. Finally, they seek their admission in various medical colleges. The selection rate is approximately 16%. How to crack the neet exam where the selection rate is very low?
The competition is so high that it makes sense to join coaching classes and within the conservation of a skilled teacher. Students can get the idea of every step that is required to make their path clear for cracking the NEET exam.
How to score good marks in neet exam?
NEET is a national level entrance test conducted by NTA (National Testing Agency) to select deserving candidates for admission in MBBS and BDS courses. The syllabus covers these subjects – Physics, Chemistry, Zoology, and Botany.
The question paper of neet is multiple choice based questions. Every correct answer awards you 4 marks each and for every Negative answer, there is one mark deducted.
There is a single exam Covering all the subjects for the NEET exam entrance exam. The question paper covers 180 questions 45 from which subjects and the total marks of this exam are 720 marks in aggregate.
| | | |
| --- | --- | --- |
| Subjects | No. Of Questions | Marks |
| Physics | 45 | 180 |
| Chemistry | 45 | 180 |
| Zoology | 45 | 180 |
| Botany | 45 | 180 |
| Total | 180 | 720 |
How to crack NEET exam in the first attempt?
We are discussing some proven tips that will help you in cracking the neet exam in the very first attempt. Go through each of them if you are seriously studying for the Cracking NEET exam.
1. Always follow your syllabus
NEET exam covers a detailed syllabus, but most of the topics match with the NCERT syllabus. Candidate and advice to check the officially declared syllabus for NEET exam.
You can also create a list of mentioned chapters, which you have to study. Plan your study accordingly. You can visit the official website and see what they have declared and also read their latest information.
Students who are preparing for class 11th/12th and also NEET Exam can find the common patterns in the exam for the question asked. The syllabus will help you to study to the point. This method works for many students. While preparing for the NEET exam and scoring good marks in the written test this is the most followed approach.
Cut down some details that have been mentioned officially in the syllabus and focus on the important topics.
Two years is enough to cover the complete syllabus of the NEET exam and get a good score.
2. Create a timetable
Creating a realistic time table is important for your studies. Starting with the topics which are going to be covered largely in the NEET exam is very crucial.
All those candidates preparing for this exam always keep a timetable on their study table. It will help you in achieving your goal and making it the path easy in the way of success in the NEET 2020 exam. Students have to cover the syllabus for 2 years. So compiling all these things into a structured way makes it easier for them, so that they can regularly prepare for this exam. If your study timetable needs some improvement you can prove it and make sure to follow it regularly.
Taking a regular break during the study is one of the recommended ways that you can follow. It will provide you with differences during the studies and keeps you healthy. Taking a 6 hour of sleep is necessary for the students.
Follow this technique that will help you in creating an effective study plan.
Create a well structured time table
Mark comments on different chapters or topics that you have covered or you have to cover, mark the question you need to solve.
Do not make your time table hard to follow
Also, care on your health
Get a good night sleep
Create short notes on your command of different topics and approach to numerical problems.
2 to 3 hours of continuous study is enough, so give some time for a break.
3. Neet PG Previous Year Question Paper
Candidates should have a detailed analysis of at least the last 10-year question papers. Previous year question papers play an important role. You will get a clear picture of exam patterns and time management. Solving the previous year question paper can also give the candidate a boost in their confidence, their speed, and accuracy.
Most questions asked in the NEET exam are repeated from the last year. It also helps in getting a better understanding of the topics and their approach towards various problems.
Mock test papers and previous year questions are key factors in getting a detailed overview of the subject. It helps candidates in checking their difficulty level and also shows their approach toward various problems. We will give you a detailed overview of the competitiveness and toughness of the question paper.
4. Follow A Proper Study Material
Getting indulged in various study material and books crates destruction for the students preparing for the NEET exam. Once you get your syllabus prepare accordingly. NEET exam will check your skill about how you approach problems.
Following the correct study material for you may be a little bit confusing. When you join some coaching classes you will get the study material following the same study material is one of the recommended options because whatever question you will find hard with you can approach your teacher for that. You can contact and cooperate with other students and teachers well. Students who are following the same study material can also help you with numeral problems.
Preparing study notes will help you in getting good marks in the NEET exam. You can outline various topics and some concepts that will make you not approach the book every time. You can also contact your seniors or students who appeared in the NEET exam, to get the idea about how they should conceptualize everything. It will give you an idea about how to appear in the exam and which study material is the best suitable for you to be followed.
5. Mark Down Hard Problems
When you go through the complete question paper and exercises, you will get to know there are some recent and some high-level questions. Mark the question which you could not solve. Take the help of your teacher or your friend circle. You can solve the question and revise the marked question that you feel hard to solve. During the exam days, it will save you the time of revision.
6. Regular revision
Regular revision is a must-do thing for the student preparing for the NEET exam. Once the topic is taught in the class and left for a long time you will lose your grip on that particular topic. Planning your studies keeping in mind the revision is necessary. It can spoil all your work if revision with the wrong method is done.
Some helpful tips for effective revision
Make a clear balance on easy and hard topics
Revise regularly important formula and their derivatives, and mechanism and some important reactions
Use your notes during revision to eliminate any type of confusion.
7. Take some break and maintain your health
Taking some breaks during the study is important for it to be effective. It is also necessary for your focus on the study. 10 to 20 minutes of breaks during every 2 hours of study will make your mind happy and will be one of the effective options for you. Candidates can not feel concentration without taking some rest.
It is also necessary for maintaining your health. It's always said a good mind dwells in a healthy body. You cannot study well until you are not healthy. Students living in hostels and away from their families sometimes risk their health by sleeplessness and malnutrition. Proper nutrition and diet on time are necessary.
Conclusion – How to clear Neet Exam in First Attempt
All the tips mentioned above will help you get a good score on your NEET Exam. The NEET exam is not an easy piece of cake. Continuity and hard work are required. The tips mentioned will help you in preparing for this exam. Students should have to work hard with dedication if they want to get a good Grace in that exam.
Feel free to reach us, if you still have any questions. Stay tuned with us, you will get NEET syllabus, eligibility, exam details, and various dates for the NEET exam.